Converting-Industrie News
Professional articles on mechanical engineering trends of the present and future— brought to you by German engineers and converting industry experts.
Sustainable Future Technologies, Converting Industry News and Trends in Mechanical Engineering
Welcome to our news page! Here we report on current developments in the field of specialized mechanical engineering. Converting industry news, electromobility trends, new PEMFC, and photovoltaic technologies are only a part of our extensive knowledge spectrum as special machine builders. Are you interested in our journey as an enabler of sustainable future technologies? Get inspired and send us an email if you want to be informed about new publications.
But beware, as highly specialized mechanical engineers for the processing industry, we take a rather unusual perspective that will lead you to the very source of innovative production and converting processes …
"And now I see with eye serene.
The very pulse of the machine."
– Wordsworth –
Mechincal Engineering
Trends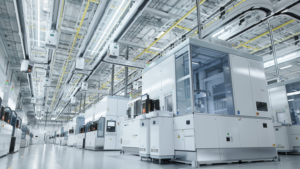 Hydrogen Technology
In the dynamic environment of the international hydrogen and fuel cell industries Printum Technology presents its latest innovation: a fully automated inspection and cutting system for highly sensitive material webs and membrane technologies such as PEM, CCM, or MEA. Read more here.
Read more »