Printum Technology GmbH participated in the International Hybrid Seminar "Fuel Cell MEA Production" from November 15 to November 16, 2022. The event in Freiburg in the South of Germany was organized by Fraunhofer Institute for Solar Energy Systems ISE in cooperation with HyFab Baden-Wuerttemberg, HZwo, and VDMA Fuel Cells.
The workshop was structured along the value chain of a Membrane Electrode Assembly – from catalyst powder, mixing, and coating to the MEA.
The Fraunhofer ISE invited Printum Technology to speak about industrialized MEA production from the perspective of a machinery and equipment supplier to the hydrogen community in front of an international audience.
We shared our experience from several fuel cell projects in the past seven years with the workshop participants. Our lab-to-production approach determines the required degree of automation by the customer and translates it into the appropriate machinery.
The companies Optima Life Science, Mühlbauer and thyssenkrupp also shared their views of the MEA assembly topic.
The Future of Hydrogen Technology
To sum it up, we would like to share from our point of view the following key messages on the future of hydrogen technologies:
The industry in Germany is already able to industrialize fuel cell production – all relevant technology is available on the market.
To make hydrogen technology competitive against other technologies and suppliers, especially from Asia, we must go to the highest possible degree of automation.
For the economic breakthrough of hydrogen technology, we need large volumes on the market very soon.
There is a common understanding in the hydrogen community that high volume, with consistent quality at a competitive price, can only be realized with rotative manufacturing technologies. Pick-and-Place technologies are no alternative for mass production as it takes too long to assemble a MEA.
Hydrogen technology is the key to the urgently needed energy turnaround in Europe. Hydrogen is the fuel of the future. It can be sustainably produced within Europe, and it has the potential to make Europe independent from oil and gas.
From a market perspective, we currently see a boom in PEM electrolysis. This is great as it will increase the amount of sustainably produced hydrogen on the market, giving the fuel cell industry some tailwind once sufficient "green" hydrogen is available and the necessary infrastructure is in place.
We are ready and accept the challenges of the hydrogen industry.
@ Team Fraunhofer ISE: Thank you very much for the successful workshop setup and the excellent organization of this valuable event for the international hydrogen community!
We are proud to be part of this community and are looking forward to seeing you again soon.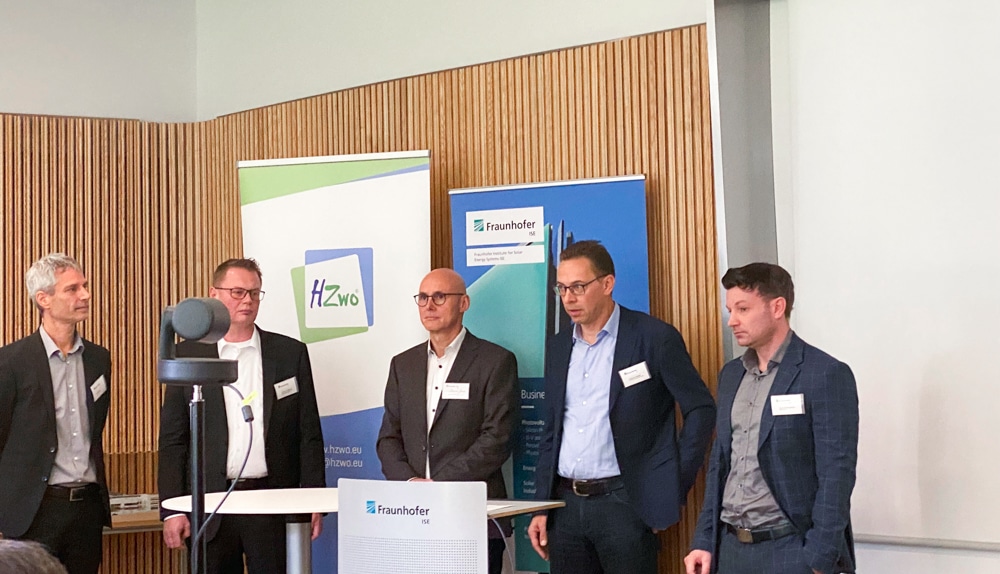 From left to right: Ulf Gross (Head of Department Fuel Cell Systems at Fraunhofer-Institut für Solare Energiesysteme ISE), Dr. Eckhard Wellbrock (Project manager at ThyssenKrupp System Engineering), Johannes Jansen (Team Leader at OPTIMA life science GmbH), Andreas Weigel (Managing Partner at Printum Technology GmbH), Paul Schwingshärl (Business Development & Sales Manager New Technologies – eMobility at Mühlbauer GmbH & Co. KG)
Related Projects and Fraunhofer ISE Publications